The Whole Clan. From Left to Right: Kip, Chadwick, Avia and Gus
Meaningful Dog Moments
Back in September of last year, I wrote a post about my symbolic journey with my dogs.  If you're interested, you can read it here: Doggone Awesome Defining Moments.
That post reveals my utter newbie-ness about having dogs. Before the boys (all rescue dogs) started showing up, I hadn't had a dog in over 20 years.
And now I have three.  Soon to be FOUR!  Ack!  Fortunately, I live on a nice big piece of land.  Somewhat UNfortunately, I live in a tiny home, about 300 sq. ft. Lemme tell ya...it gets tight with one human and three dogs.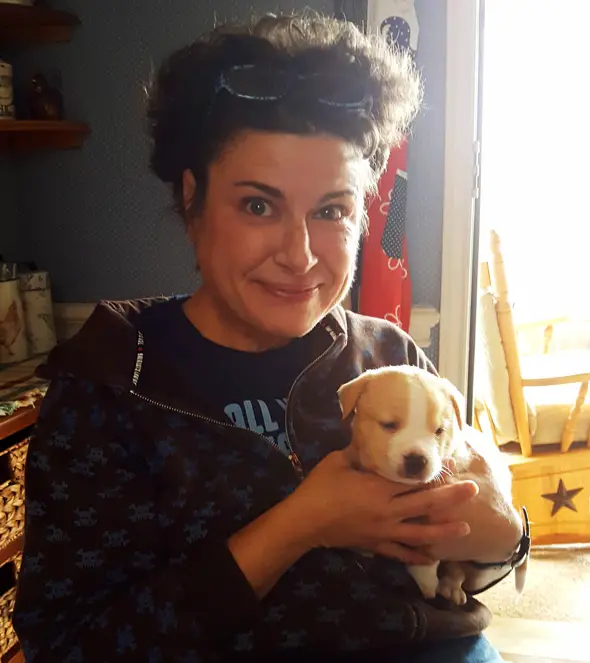 Avia with Hank, newest member of the pack.
Am I crazy for getting a fourth dog?  Absolutely!  Classic madness on my part.  But maybe not.  My dogs: Kip, Gus, Chadwick and soon-to-be Hank (shown above) have given me more sanity than I've ever had.
I'll admit, I get berserk sometimes. My dogs, even though mighty feisty, calm me completely.
I'll also admit, I can be a total sloth - slow and unmotivated. My boys force me to move. Even in my most sluggish moments, my dogs push me to go outside with them, feed them, love them...eventually all that action replenishes my energy, and I'm often able to get some work done due to their prompting.
In my first post, I confess that each dog I rescued was a remarkable defining moment.  At that time I took in another stray, whom I named Penny.  Since then, I found Penny's true owner. She lives right behind me, and Penny, being ancient (18 years old) and nearly deaf simply couldn't find her way back.
I saw a poster with Penny's picture on it at the local market.  Now, this is three months and 100's of dollars in vet bills later. In short, I was really attached to Penny at that point.  But, with my heart breaking, I made the phone call to her real owner.  The reunion was a sweet one, but I bawled like a baby for weeks over not having her in my home.  She pawed her way into my heart, and I was crushed by her absence.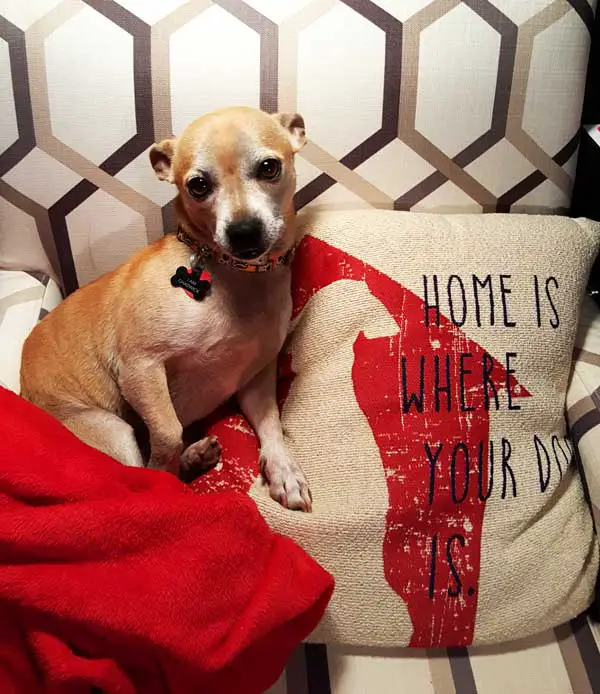 Chadwick, the most recent addition to our pack.
My best friend, Dave calls me every day. Maybe he got sick of me bemoaning my loss of Penny.  Maybe he saw a need to fill my void.  Whatever his thought process, Dave told me to quit my bellyaching and rescue another dog! He was much nicer in his delivery than that, but I got the point. So that's exactly what I did.  Meet the newest member of the family, Chadwick (shown above).
This little guy is like a cranky old man, but he's a darling. And yes, he does have little dog syndrome.  Oy!
When I first got him, there was a big adjustment period for us both, but now Chaddywhack never leaves my side.  It's almost as if he needs to be close to me all the time.  The big boys, Gus and Kip love their mamma, but they're not as needy as the little boy.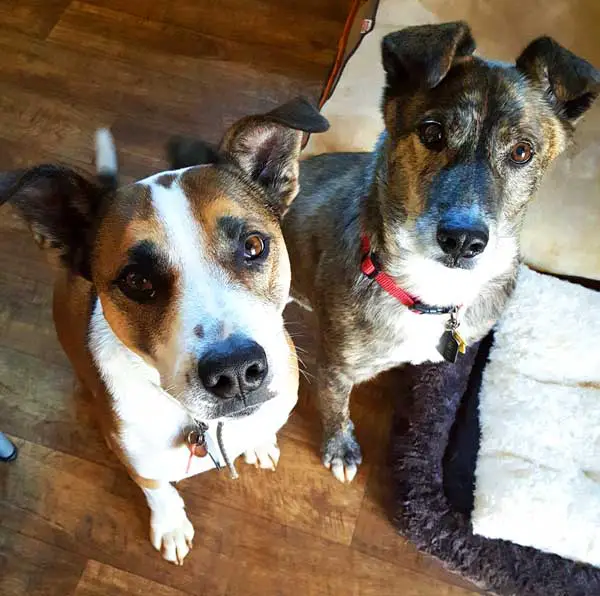 The big boys: Gus and Kip
Speaking of Gus and Kip, they continue to amaze me every day.  They are so sweet, I've gone diabetic. And their personalities get more developed and bold every day.
It is a privilege to watch them, know them and grow with them.  A truly special bond that equals no other kind of relationship.  Here are the big boys, Gus and Kip shown above.
Now a fourth beastie is soon to come into the fold.  Hank.  My niece took in a stray dog who happened to be pregnant.  I swear pregnant strays have 'sucker-radar'.  They sniff out soft hearts that will take them in so they can pop out their babies in a safe place. I had a cat named Suki who roped me into her pregnancy plan. I almost had a stroke when the vet told me she was pregnant.  But that's a totally different story to visit another day.
Hank (shown below) is still in the process of weaning off his mamma.  I expect he'll have his homecoming the end of March.  Goddess help me get through the potty training and teething.  😮
But how could I say 'no' to this ridiculously cute little guy?  You tell me....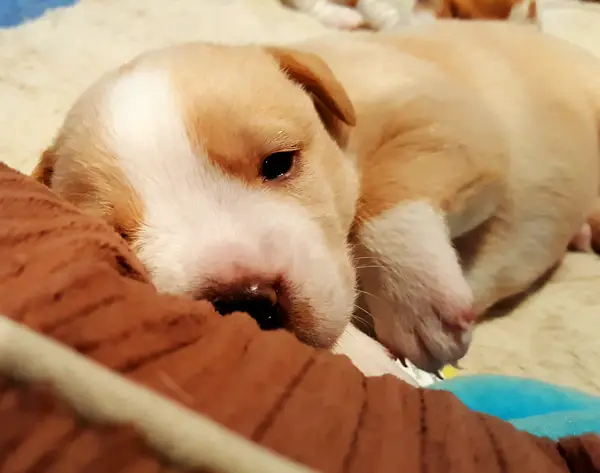 Hank comes home end of March
So what's my point to all this blathering and boasting about my dogs?  Well, foremost, I'm pretty sure I'm just babbling and bragging about my dogs. Lol.  But the secondary point is how incredibly therapeutic our animals can be.  Further, there's something remarkably special about a dog and the bond with his/her owner.
I've had cats, snakes, fish, and an iguana.  I've had a pet rat, gerbil, rabbit and even a pet horny toad. I've hung out with horses, and befriended ferrets.  Side note here: If you haven't guessed, my first 'real' job was working at a pet store.  Believe it or not, lots of creatures were dropped at the front door of the store.  Yep. You pegged it.  I took in every critter that needed a home.  Thus my Dr. Doolittle diversity in pet ownership.
At any rate, my point is this:  There is nothing like the connection between canine and human.  For sure, a bond was formed between me and all the various creatures I cared for.  But it was my dogs who taught me stuff.  Huh?  Yeah.  Dogs teach, and they give, and they need you on a whole different level than a rat or a cat.  Sure, other pets need you for food, and a modicum of attention.  But a dog needs you with all his/her heart and soul.  So what have dogs taught me over the years?  Here are a few big dog lessons I've learned...
Top Five Dog Lessons I've Learned:

  1) Dog forgiveness is infinite.  At times, I can be most cantankerous. Sometimes I get crabby with my dogs. But you know what? They always forgive me.  So much so, that they have taught me the extreme importance of forgiveness.
---

 2) Dog joy is on steroids.  Seriously, I've never witnessed such bliss.  When dogs get happy (which is more often than not) it's like watching a kid at a carnival with cotton candy in one hand, and cuddly stuffed animal her dad won at a game of chance in the other hand. It's unreal how dogs beam with joy.  They even smile!  This has taught me there is more benefit to bliss than being blue all the time.
---

 3) Dog gratitude is intense. My dogs seems so grateful for the tiniest things. From a scratch behind the ears, to a wee treat, dogs are just so incredibly thankful.  This, of course, is a big lesson for anybody - especially me.  My dogs have taught me to have an attitude of gratitude for everything and in every moment.  Even something so commonplace as running water - I get grateful.  This is especially true when times are tough.  That's when giving thanks really matters. In short, I'm grateful my dogs showed me the importance of being thankful - even for the smallest things.
---

 4) Dogs take protection personally.  My dogs take protecting me and my property very seriously.  Sometimes it's hard for me to perceive these sweet babies transform into fierce, feral beasts when they sense a threat.  And they make that shift from pacifist to "I'm gonna chew your face off" mode within a blink of an eye!  It's quite staggering to observe sometimes.  At any rate, my dogs have taught me there is a time for being passive and a time for aggression.  Further, this behavior has reinforced a belief I've always held: Protect that which is sacred, and do it to the tooth. Meaning, I go ballistic when it comes to protecting my dogs and my peeps.
---

  5) Dogs are love machines.  Canine love is primal.  It's a special brand of love.  I've never seen anything like it.  Human love can often be complex, or come with strings attached.  Not dogs.  Their love is unconditional and pure adoration.  From sloppy kisses to full body hugs - wagging tails to barks of bliss...dogs got love like Serena Williams got game. Hands down, dogs know how to love far better than most humans.  In fact, my dogs have taught me a lot about how to love with abandon...no conditions, no expectations, just pure love.  That's perhaps the biggest lesson I've learned from my boys.
---
In closing, I just want to thank you all for indulging me in this post on dog and defining moments.  To be sure, dog meaning, dog messages and dog lessons are extremely simple - but hugely profound.
I hope you enjoyed this dog article.  I know I got carried away with blathering about my boys.  But I hope the lessons I've learned are also available to you, because they are priceless on any path in life.
If you liked this blog post on dog meanings and defining moments, check out the dog links below.  They may offer deeper inspiration (I promise, I don't blab and brag on my other articles like I did in this one. lol).
As always, thanks for reading.
May all your dog days be dazzling,
Brightly,
Avia
---
Related Articles on Dog Meaning and Dog Symbolism:
Dog Spirits and Dog Family by my Friend Dave