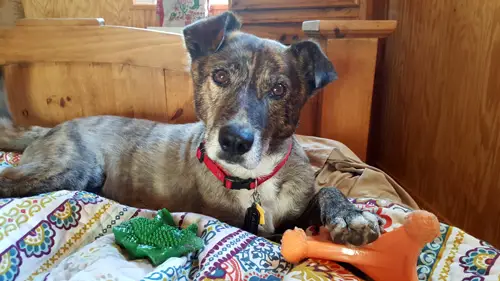 Dogs and Defining Moments
(Kip Shown Above)
There are defining moments in every human's life.  Moments when we decide we're going to change our lifestyle.  Times when we realize there's more to life than what we may have thought.  Moments in which our entire paradigm shifts.
Sometimes these defining moments are forced upon us.  Maybe we have to step up to take care of loved ones who need our help.  Perhaps a tragedy has struck and hence changed the landscape of our lives.  Faced with dire times, we have no choice but to change.
Other defining moments seem so random (but of course you know they're not).  Little synchronicities that seem so out-of-the-blue can change our lives forever.
These are the kind of defining moments my dogs represent.  I have three now.  Each one has seemingly and randomly wandered into my life.  The choice to give them a better home has utterly transformed my entire life.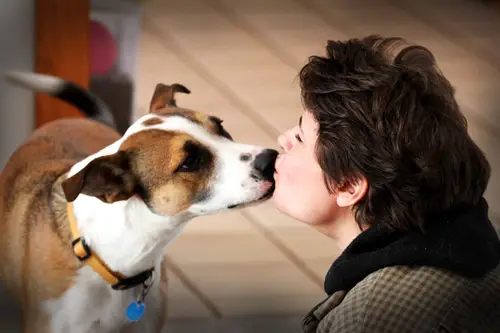 Kissy Face Gus!
Gus (shown above) was my first defining moment.  I hadn't had a dog in over 20 years.  I admit, I was a cat person.  It's not that I have preference for cats – it's just I never considered owning a dog.
Gussy came to me via a handyman and volunteer fireman who was doing maintenance around my house.  He knew I had 3 acres, and I guess he knew I was a sucker for hard-luck cases.  He called one day and told me he picked up a bone-thin, stray puppy.  He already had 7 dogs, so he couldn't take this little guy.  When he said: "Avia, if you don't take this pup, I'll have to take him to the shelter – or else he'll get hit by a car.  Well, he had me at 'shelter'.  No way I would let Gus go there!
Then there was Kip (shown at top of post).  He'd been kept in a small area outside with access to a tiny portion of a barn.  Kippy had been in that confined space for about 9 years.  Can you imagine?  At least he had some shelter, but in 100+ degree days, that's not saying much.  He was also being fed, but the lowest quality food ever.  Never able to bond with family, no friends, no interaction with anything or anyone.  It all broke my heart every time I passed his caged up area.  So, being the sucker I am, I asked his owners if I could take him.  They were thrilled, and Kip became mine.  He was a disaster.  Heartworm.  Massive inner ear infections.  Not even neutered!  Well, as you can see from the picture at top, Kip is a hot mess now!  Happy as a clam, and thriving!
Next up:  Penny.  I just got her day before yesterday.  She's a 10 year old stray.  She has a heart condition.  X-rays at the vet revealed several broken bones (and she's a gimpy thing – poor baby).  She also has major inner ear infections.  She's got scars all over too.  Don't even get me started on her teeth.  She's only got 4 of 'em!! In truth, Penny looks the way I feel half the time.  Old, been-around-the-block, tough but tired.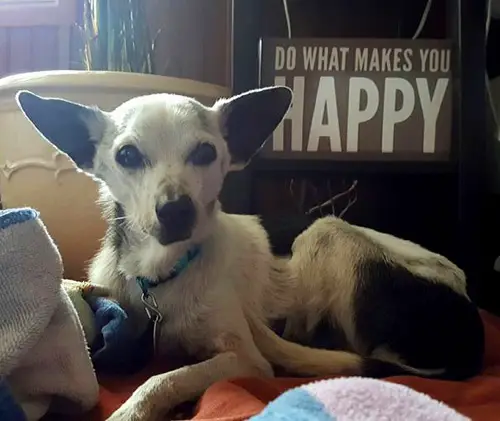 Happy Penny!
So what's a sucker of a soft-hearted gal to do?  Yep.  I'm taking care of her.  Surprisingly, Kip and Gus have warmed up to her.  Maybe they sense a kindred rescued soul.  I dunno.
My point to all this story-telling is this:  The discovery of dogs was (and still is) my most defining moment.  Sure – there have been a lot of delineating points in my life.  New births, death, illness, marriage, new jobs, financial disasters, etc., etc., etc.
But by far, bringing dogs in the fold of my life has been the most major turning point.  Sometimes I have no words for how transformative these babies have been for me.
What's the symbolic meaning behind this post?  Gee.  I suppose it's all about never underestimating the power of those defining moments in our lives.  Whether forced upon us through unpleasant circumstances, or random visitors in our lives – we never know what's going to sculpt our souls. Never in a million years would I have thought I'd have three dogs.  But I tell you what….those three babies are the biggest blessings and so bountiful with lessons.
As always, thanks for reading.  And thanks also for indulging.  I realize I rambled a bit.  I feel a little like a mamma who brags on her children and whips out pictures of my kids to anybody who does (or doesn't) want to see them.  Oh well – thanks for putting up with my excessive gushing over my canine BFFs.
If you're into dogs, and feel the same as I do, you might like these other dog-related articles:
*Dog Meaning and Dog Symbolism
*Dog Brothers and Dog Sisters (written in collaboration with Dave Crotty)
*Dog Tattoo Meanings and Ideas