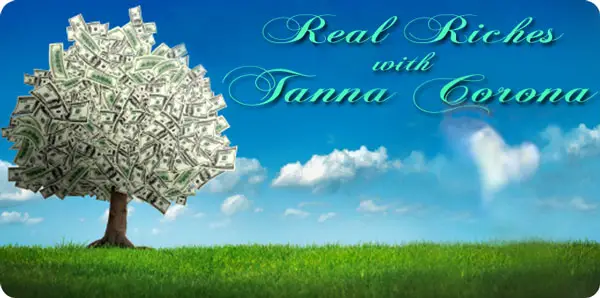 I've had the serious pleasure of exchanging uber-keen symbolic insights with Tanna Corona, host of Real Riches Radio.  I adore Tanna's style – smart, savvy and sagacious.  I think you will too.  That's why I'm encouraging you to take a listen to her talk show, every Monday night.
And if her radio show isn't enough to make you adore her too, here's Tanna's impressive bio:
—
Tanna Corona  is a professional Certified Life Coach, Master Spirit Life Coach and Member of the Certified Coaches Alliance. Her expertise is in the fields of prosperity consciousness, love relationships, the Law of Attraction, metaphysical Christianity, and communications. Tanna is also an ordained Minister with the Universal Life Church.
Tanna (pronounced Tah-nah) is producer and host of the REAL RICHES show on BlogTalkRadio.com (RealRiches), where she interviews Spiritual, Law of Attraction and New Thought practitioners and proponents.
Tanna holds a Bachelor's Degree (with Latin Honors) in Communication Studies from the University of California, Los Angeles (UCLA). She worked in the legal field for many years, and she parlays the disciplines of that profession into her current work.
Tanna is self-taught in the realms of divination, self-knowledge and tapping into inner wisdom, such as the Tarot, numerology, runes, acrophonology, feng shui, meditation, and visualization.
——–
Here's Tanna's blog for more information.
And don't miss her show on Blog Talk Radio.