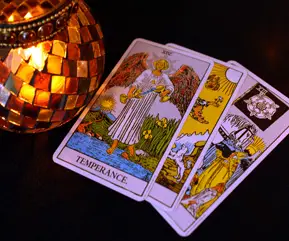 There is a time and a place for intuitive & Tarot readings. To be sure, psychics, Taroists and other intuitive practitioners can certainly offer extreme value to seekers and questioners.
However, I no longer offer Tarot readings or casual intuitive interpretations.
Why the choice?
In spite of my continual admonishment that oracles are guides, not the path to Light – I still sensed the message was left unheard.  So, by continuing to offer Tarot readings, I felt like I was feeding an unhealthy dependency. 
The Light is within, not without. The Clarity is internal, not external.  The Answers are…well, you get the idea.
This is a sign of the times. 
More and more each of us must rely on our own souls, hearts, minds, beliefs, intuition, etc.  The more we externally seek out satisfaction – the further away we move from our potential divinity. 
"Temet nosce" (know thyself).
This is not to say I have parted from the Tarot path.  Quite the contrary as I am still a devotee of  Tarot wisdom, and shall continue to build on the premise that the Tarot is a magnificent tool for personal/soul development via my Tarot website:  www.TarotTeachings.com
But the impressions, revelations and messages I'm getting are clear:  Serving as a reader is counterproductive to the current paradigm.
What am I doing now?
I surf the cosmos gathering glimmery bits of bright inspiration
I convert these bits in some sort of useable format, adding my own spin & flavor
I send them back out into the cosmic seas, messages in buoyant bottles, gift wrapped with high anticipation
I observe who picks these perspectives up, who shakes out the oracles, and who weaves personal understanding between the lines
I remain vigilant, expressing in as many ways possible the variable paths to self-empowerment & personal illumination
Thanks to everybody for allowing me to serve, and mostly thanks for understanding and honoring this choice I've made.