Tags: Bird Totems | Nature Symbolism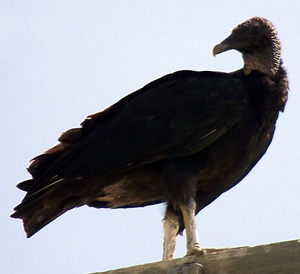 My eyes first opened to various vulture meanings as a kid visiting my Uncle Dan in West Texas. 
He lived on sprawling acres of sun-baked dirt and craggy trees with crooked fingers pointing into the skies. 
Vultures were never far from sight at Uncle Dan's place.
I learned to love these bizarre creatures for their regal poise and imperial presence.   And isn't that a paradox.  I mean, sonnets aren't written about how beautiful and elegant the vulture is.
And that's my first (maybe most important) symbolic point pertaining to vulture meanings.   The vulture is what it is, and could care less about what you or I think about its appearance.   It moves with grace in the skies.  On land it moves with authority, as if all things are within its rightful ownership.
There's a lesson here for the image-conscious.  When the vulture flies the skies of our awareness it's a clear sign to raise our heads with dignity.  Conventionalism be damned along with conformity and status quo.
Vultures will also talk to us about expectancy and being confident in the knowlege our needs are always met.  "Good things come to those who wait." Very good things if you're a vulture, and they're quite content with waiting for hours to get their fair share of resources.  
In fact, I've seen the same group of vultures hang in air currents for hours.  Just circling and riding the coursing winds.  Very knowing. Very Zen. As if to say "my freedom is in scaling the skies; all things come to me in good time."
Actually, vultures say nothing. They have no hoots or hollars.  Only hissing.  Vultures don't need to announce themselves.  They're reputation preceeds them.  Their power is in their purpose.  Their silence only enhances their mystery. 
There's profound wisdom in silence.  When the vulture lurks about in our awareness, it's often a sign to keep our lips sealed.  Usually in situations where it would behoove us to keep our opponents guessing about our motives.  Build intrigue.  Build suspense.
Quite a manner of living, and the vulture is a great symbolic role model for us to follow. Indeed, the vultures' way is an art form.  Perhaps they even have a motto that might go something like:
"Rail against the common and customary.  Bliss out whilst hang-gliding in the high, bright skies. Rest in the unquestioning knowledge that all needs are laid at my feet."
There's tons more vulture meanings for the picking (pardon the pun).
These and many more questions are answered in my symbolic meaning of vultures page here.