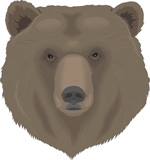 This is my first rant. Probably my last because tirades have nothing to do with symbolic-meanings. But, somethings just can't be contained.Some folks call me mellow, and I'm agreeable to the term. Aside from being naturally amicable, I never watch TV and this is why:
To preface, bears have been drifting in and out of my dreams and meditations lately. So, when I overheard bears mentioned in the TV program my house-mate was watching, I thought it was a prompting.
I neither know the show, nor remember the location (although it was North America), but the show spoke about bears growing larger these days, and looming more close to residential homes. 
The camera then switched to one of these homes in which the homeowner, a woman with three kids took the cameraman on a tour of the new, sprawling residential yard.  She showed him where the bears were encroaching on HER yard.
With alarming cluelessness, she went on to tell the cameraman:  "They walk through here like they own the place. They go through my trash bins, they tromp through the back yard. I am afraid to let my kids out to play. Something needs to be done."
To this, I would say yes, indeed something certainly does need to be done. YOU NEED TO MOVE LADY!!!!

THE BEARS WERE HERE FIRST! They DO own the place!!!
Something about the whole scene sang a sinister tune of irony that made my back teeth grind down to nubbins.
To clarify, I'm not an activist. I think it's counter-intuitive.  
However, I was real tempted to borrow a t-shirt my mom often wears.  It's got a picture of a grizzly bear on the front sporting a rifle and says "I support my right to arm bears."  Nah, not my (mellow) style. 
So what's an amicable soul to do?
Send my own message, in my own way.  Aside from this rant, I went on to publish some cool pages on bear symbolism.  If you're interested here they are:
Sacred Bears – A Native American Perspective
That's all we can do. Fighting fire with fire only makes a situation more combustible.
But, thanks for listening to my rant, and for allowing me to let off steam.