Full 'Blood Moon' Lunar Eclipse is upcoming!
The blood moon (also known as hunter moon, harvest moon and/or falling leaf moon) is not uncommon.  However, what's unique about the blood moon this month is that it's a full lunar eclipse.
The term "Blood Moon" is fairly new in modern, popular media.  In truth, it's a term that's been used by earth-worshippers for a very, very long time.
Blood moons commonly happen during the months of Autumn (Sept-Nov).  In the old religions, and ways of life, this is a time of hefty harvest as well as slaughter.  Blazing bright foliage is reminiscent of the color of blood.  Slaughter of cattle is obviously a blood-related event.
This is a painfully simple explanation for the connection between "blood" and "moon".
So what's it all about, Alfie?  And what are we supposed to do with this blood moon stuff!?!?
"Light and shade,

day and night,

ocean and stars,

earthquake and eclipse?

The works of man are

swallowed up in the immensity of nature."

~Thoreau
Here are a few ideas to keep in mind during this blood moon lunar eclipse:
Get Grateful:  As this is a time of the long-held traditional harvest, we might give thanks for what we have gained in our lives while admiring the blood moon.    An attitude of gratitude is powerful any day of the year, but especially during the full harvest moon.
Get Picking:  This is a full moon.  That means it's a great time to do some harvesting of our own.  Our modern world may not muster every villager, gather in the fields and harvest crops…but that doesn't mean we don't have fruits to pick.  Consider ideas ripe for the harvest that need to be picked and worked on.  Also consider loose ends that need tidying before the long winter months hit.  Part of harvest is prevention.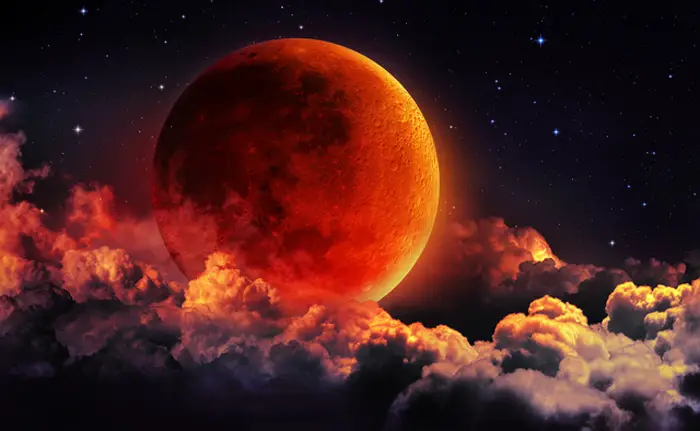 Get a Clue:  This is a full lunar eclipse.  Symbolically, a lunar eclipse speaks to us about stuff that is a major presence in our lives.  We know it's there.  It shines brightly in our lives.  Nonetheless, it's often blocked by something (time constraints, the ego, ignorance, denial, etc).  During this blood moon eclipse, it might be a good idea to recognize and appreciate the 'big obvious' in our lives.  This could be as simple as recognizing mentors, family, our kids or special friends in our lives.  Those people who always shine, but our business or whatever gets in the way of giving thanks for them.
Get a Life:  Blood is a big deal.  It means life.  It is the ocean in which all life might continue to exist on this earth.  This blood moon eclipse might be a good time to get in the flow of that concept.  This could mean paying attention to our health concerns.  It might mean re-devoting ourselves to our "life-blood" which could be our passions, our children, our community…that big aspect of our lives that insures life moves forward.
Give it Up:  Blood is about sacrifice.  Not trying to freak you out, but it's true that blood has been steeped in the concept of sacrifice since ancient times.  Consequently, this might be a good time to consider the sacrifices others have made for you.  Blood moons are a time for me to thank the military men and women who shed their blood in service to our country.  This is also a good time to consider what kind of sacrifices you can make to better yourself, others, your community, the world.  What can you shed that will lighten the world?
These are just a few symbolic ideas that hold hands with the full blood moon.  However you intend to acknowledge this special lunar eclipse – I hope all your moments with Lady Luna are illuminating.
Brightly,
Avia
Get More Symbolic Lunar Delights