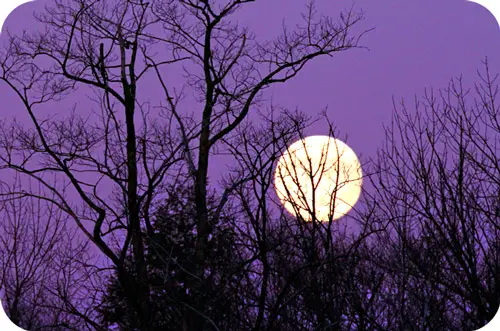 Someone asked me recently to describe a memorable experience had in Nature. It was hard to pin down just one remarkable communion, but this one moment in time was a real soul-shaker for me….
I remember walking on the sun-baked earth, flat and expansive, somewhere between Midland and Odessa, Texas. It was evening, and the moon was full, casting illumination across the parched expanse. A breeze lifted the heavy heat of the air, and a light sprinkling of rain began, which suddenly gave birth to a torrential rain.
In seconds, the cracks in the earth began to fill. My shoes became sponges as I continued to walk through the accumulating rain (squish, squish). Just as suddenly, the rain stopped and the moon returned, lighting my path once more. In the distance stood a lone mesquite tree – short and squatty – a rebel to stand out so staunchly in the flat dessert terrain.
While focusing on that mesquite tree in the moonlight, I was stopped-short by a behemoth strike of thunder. Lightning followed, cracking open the night like an onyx egg. A tendril of lightning touched a slender branch of the tree and ignited it into a bright fire suspended in the black night. Softer rain then fell, but the fingertips of the mesquite tree kept burning.
I sat and watched this for as long as the fire flickered at the end of the branches. Eventually the fire was quelled, and so was I.
—That was a very symbolic moment for me; namely, it represented all four elements (fire, earth, air, water) in a crazily unlikely, but well-choreographed dance. It was Nature's allegory about balance, and how sometimes oddly cool things can happen at the most unexpected moments.
So, allow me to 'pay it forward' and ask you to contemplate a moment in which you bonded with Nature in such a way as to make it memorable and profound for you. I found re-experiencing this moment really shifting – I hope the same will happen for you.
Brightest,
Avia
Other Pages of Interest:
Meaningful Messages from Nature
Tuning Into Nature's Symbolism