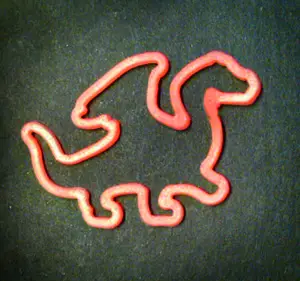 I got the low-down on silly bands from my niece, who gave me this one – a Dragon, who happens to be my predominant animal totem.
Now, I'm not big on extraneous consumerism.  I prefer to keep my personal adornments and purchases as pure and simple as possible.  However, I can see some pretty practical uses for silly bands in relation to our animal totems.
To explain…
Life is replete with distractions.  There's so much going on in our modern lives.  Busy-busy, push-pull, tag-your-it. 
If your days are potentially crammed with complexity like mine are, then perhaps you'll agree it's good (indeed, even necessary) to keep reminders close by.  Reminders that ground us, and redirect our consciousness back to the pure vitals of life like: Compassion, Dynamism, Expansiveness, Balance, and such.
I have tattoos that serve as permanent reminders of these things and more.  Photographs plaster my office-studio walls serving the same purpose.
Imagine my surprise and delight when this tiny silicon silly band fulfilled the same function. 
Every time my eyes catch sight of this little guy, I return to my core – a place in which my Dragon's crave for me to stay rooted.  Why? Because being rooted in the realms of our animal totems manifests superior benefit for them, ourselves and our society.
Just thoughts…an idea for triggering awareness back to your ideal, totemic core.
That said, a special thanks to my niece for this wicked-keen gift! 😉
Other pages of interest…
Tips to Knowing and Re-Connecting with Your Animal Totems
Animal Totems (a whole heap of 'em)