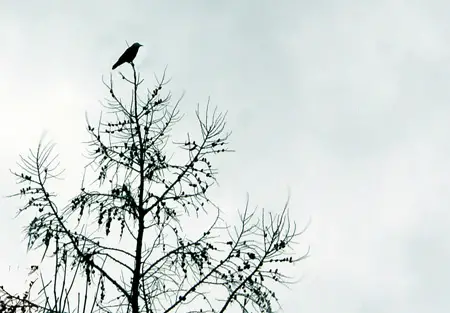 For many nights now, a behemoth Crow cackles in my consciousness. She comes dressed in her classic black, iridescent robes.  A daughter of Nyx, dark as soot – her presence equally clingy within my inhaling mind.
Always in moments like these I wonder about the concept of dreaming within dreams, which prompts me to consider reality – and this all leads to a chain-reaction of odd musings that hurl me off-track from my focus.
And what is my focus?
Oh, yeah – right…the dream…
Did you know Crows are mother figures to the Hopitu-Shinumu Indians?  Uh huh.  The Crow is one among the Hopi's legion of Kachinas.  It descends in the Winter, spitting out seeds like a Tommy Gun run amok – rapid fire and with widespread dissemination being more important than technical aim.  Those seeds represent the promise of the future – the continuation of the tribe.
This makes sense.  In the span of one month, two mother-figures in my life have left this physical life.  Good for them.  But, not-so-good for those of us left behind dealing with the sucking black holes of our separation-issues.
Since these so-called "deaths" of important mother-figures in my life, the Onyx Crow keeps cawing in my dreams, and her symbolism keeps shifting, twisting, morphing.  That's typical.  It's the Crow way to be elusive.  She makes us work for meaning.  We must earn the epiphanies.  In this way, our understanding of her presence becomes substantial – galvanized in our psyche.  The lessons learned from the Crow are solid, permanent.
She is shrill and course in her speech.  Her voice pierces like a big-tooth saw heaving through stainless steel, rendering an unearthy sound – metallic, jagged, like reverberating insanity.  Of course, it's an attention-grabbing technique.  I've been numb.  -Nothing like an  other-world "rebel yell" to get one's attention.
It works.  I become lucid within the dream, the spectral body sits up bolt-straight.
Now that she has my attention, the Crow stills her ripping cackles and shits a pearl in my left hand.  Yes, you read that right.
I borrow hope from the Hopi, interpreting this Crow as a Mother come to rattle my attention until the numb-fluffs are shaken off.
This interpretive approach is underscored by the presence of that white-bright lustery pearl.  In Chinese symbology, pearls are very yin.  They are associated with water, the moon and feminine themes.  I like how pearls are born from an oceanic womb – dark as night, just like my Mother Crow.
I also appreciate how pearls are wrought into existence via  a defense mechanism.  Pearls are formed as a response to an irritant or parasitic invasion upon the mollusk.
This makes sense in context of my recent mental states.  Tons of intruders in the form of rogue emotions/memories/mental frenzies have invaded my space as a result of these recent "deaths."
I keep my interpretations of this dream rather loose, because I know my Obsidian Compatriot – that crazy Mother Crow will tweak my perception again.  She is every inch a task-master in spiritual learning.  I also know her pearl-pooping symbolism will morph in meaning too.
A prime point to be taken away from this post is this: Sometimes a dream interpretation is far from succinct.  Pat answers simply will not apply to certain dreams/experiences.
There are times when waking and dreaming life coalesce in a weird crockpot, and the symbolic flavors must stew over time before any real sense can be made of any of it.
That's a tough pill to swallow for some of us.   In this instant-download-push-button-get-it-now world, the concept of waiting for a big picture to formulate does not sit well.  But wait we must.  Sometimes that's the only option: Patience in the process, and faith in knowing illumination will come when it's damn good and ready (and of course, when we are ready to receive).
Other stuff:
Six Steps to Interpreting Dreams