Tags: Nature Symbols | Insect Totems | Spider Symbolism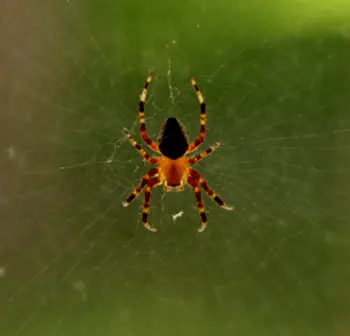 It's been a brutal few weeks, but I've gotten by with a little help from my friends (shout out of "Thanks!" to my soul sisters, Donna Faber and Michele Knight  for helping me keep it together).
I want to also acknowledge gratitude to my new eight-legged roommate.  She moved into my home office window three weeks ago.  On the lunar eclipse (and full moon) to be precise and that she made herself known to me on this auspicious date should have clued me into the revolutionary writing on the walls.
Without going into too much detail (as my friend Donna says, I'm still percolating), I did want to share a few "instant spider messages" my orange arachnid roomie had to share to date:
Who is Weaving Your Web?
My spider sage asked if I was the weaver of my own life experience, or if I was letting my life weave circles around me (and consequently allow myself to be consumed by the process of living).
How Divine is your Design?
Messages tumbled out of her spider web as if to say "See my design? I made it purposefully.  Each loop, turn, cross and connection was strategic and tailored to my own ideals.  Be as purposeful as I am in building your experience and you won't have these problems, Avia."
Get Real!
I love how my roommate looks so pissed off in this picture.  That look was conveyed in a few spider messages too.  She expects me to tow the line, and that stern look is a confirmation.  She's asking me to sift through the illusions and get real about focus.
To be sure, more spider messages are coming, with more on the way. 
If you're working with Spider Energy, you might be interested in my full article on Symbolic Meaning of Spiders here. 
I've also written about symbolic suggestions when we experience spiders and other creepy crawlies in the home here (with "creepy" being a term of endearment, of course).