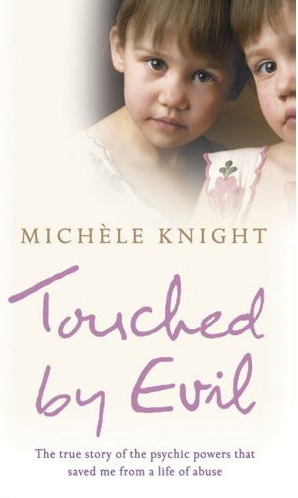 To some extent, we've all had a case of the "Why me?" syndrome. 
You know what I'm talking about.  A phase of life in which a load of miserable (sometimes horrific) circumstances have plopped right into our laps. 
Taking a look at these utterly dismal circumstances, we sometimes think "Why me? Why are these terrible things happening to me?"
Reading Michéle Knight's autobiography will cause you to reformulate that question from "Why me?" to "How can this hardship serve me?"
In her book, Touched by Evil, Michéle bears her soul with steely candor.  She recounts the events of her life tinged with abuse, neglect and circumstances that would put the most courageous among us at our wits end.
Michéle Knight is a brilliant psychic with an uncanny ability to see clear into the human heart with laser-beam accuracy. 
And her book gives us a glimpse into how her brand of psychic power was forged.  In reading it, we get to see, first-hand how her intuitive brilliance was enhanced and developed under immense pressure and conflict.
Michéle writes about the abuse she endured as a child from an objective, aerial view.  Throughout the book, Michéle's compassion radiates  as time and time again, she acknowledges the demons and social ineptitude of her abusers with a level of acceptance that can only be described as Christ like.
That's a strong statement, but you'll see it too when you read her book.  You'll wonder how this woman was able to triumphantly move through one tragedy, loss and abuse after another to become one of UK's finest and most powerful psychics.
You'll learn she had some help overcoming insurmountable odds too.  Michéle was never alone.   She came into this world with a twin, and although her twin Lucy did not survive at birth – Lucy's spirit resiliently lived on to guide and protect Michéle through her dark childhood.
Michéle weaves the story of her life with brutal honesty and stitches the painful memories together with a bright wit that makes you shake your head and laugh in spite of the circumstances.
What's more, there is never a hint of the "why me?" syndrome in Michéle Knight's life story.  This woman has endured unfathomable atrocities, and she never once blamed a soul.  She recognizes the value of her life, gives credit to the spirits who have held her hand on her path, and continues to love with a warrior heart.
This book will give you newfound respect for your life experiences. It will make you ditch the "Why me" syndrome and begin to see the world and all the people in it as divine (sometimes tragically divine) catalysts activating positive potential within you.
Further, this book will prompt you to take a look at the non-physical helpers who march with you, shoulder-to-shoulder through the battlefields of your life.  Michéle's experience with her spiritual guardians will cause you to reevaluate your own spirit guides, and recognize they are undeniably present – able – and willing to assist you in your evolutionary path to betterment.
Michéle Knight's autobiography, Touched by Evil is a true inspiration to those seeking proof that we are not our story.  We are valuable regardless of what our circumstances might indicate. We truly can overcome all odds against and experience love, success and peace. We never need ask "Why me" but we can live our lives knowing our experiences serve as fuel for our most brilliant potential. 
In closing, if you want to know what a phoenix rising from the ashes is like, read Touched by Evil – it will clue you into the transformational potential each one of us possess in converting tragedy into victory.
Purchase Michéle's book, Touched by Evil here.
Michéle Knight is a critically acclaimed psychic, astrologer, presenter, broadcaster and author who holds an honorary degree in anthropology.  Aside from all that, she's a genuinely delightful person with a heart of gold. 
Find out more about Michéle on her websites: