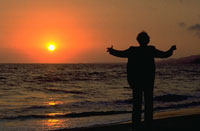 I get a lot of requests to interpret dream meaning and symbolism. Of course, I always have impressions to share, but I continue to stand firmly in the knowledge that dreams are personal oracles.
What do I mean by that? I mean your dream is a message for you and only you. Dreams are a form of self-communication. Dreams arise when certain aspects of yourself are reaching out to contact other aspects of yourself.  That sounds redundant, but it's not, really.
I contend humans are a sum of many, many parts (aspects, personalities, motives, heritages, etc), and dreams are a means of communication amongst these parts.
For example, a deep-rooted aspect of myself that moves from a place of insecurity may send a prophetic dream to a higher, more sure-footed aspect of myself whose job it is to interpret the dream. The dream meaning in this context holds a key to soothing or healing that insecure aspect.
If this sounds confusing, don't let it.   Here's an analogy:
We are each an ocean. Our waters rise and fall in cyclical rhythms that are at once natural and mystical. And, within our waters stirs ancient life in infinite varietes.  Some of this life we know intimately.  Others lurk more deeply, and our knowledge of these life forms is slight.
Dreams churn our energetic waters, move the silt, and bring deeper aspects in contact with more familiar waters. This allows us to pick up new treasures and discoveries (in the form of personalities, tendencies and behaviors) that have surfaced in awareness.
Should we fear the unknowns in our watery depths? Not at all.
There is nothing in the grand body that does not know itself. There is nothing within the totality of the ocean that is excluded – all is known – all is accepted.
Making an effort to contemplate various dream meaning is a form of self-acceptance as well as self-communication.
In the end, we must swim in ourselves, and do so playfully – as a child would splash in the waters of the sea, fearless, unabashed and exilerated by the experience.
Better yet, be adventursome in the pursuit of determining your own dream meanings.  There's something empowering and alluring about self-discovery.
Go exploring.  Approach your energetic waters like a saucy pirate lustily stroking the crest of a wave as if it were a lover by your side.
I digress…
Succinctly put, dreaming meaning and self-communication boils down to the grand tennet:
"Temet Nosce."  Know Thyself.
Sleepwalk through my other pages on dream meaning:
Common Dream Symbols and their Meanings
Common Dream Animals and their Meanings