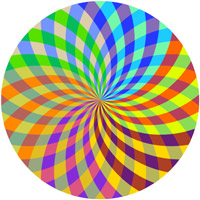 Last week, a brightly lit, inquisitive mind focused on a statement I made on my Tarot site .
I wrote:
In our own ways, in our own time, we will all find the answers we seek only to realize there was never a need to search for them at all.
And, in response, Ed asked me: "Isn't it through searching (questioning) that we gain awareness?"
I love philosophical fodder like this….more than I love crunchy organic peanut butter with bananas and really good coffee (trust me, that's a lot).
My statement wasn't arbitrary, but my friend's question made me reevaluate its consequences.
He's right.  It IS the searching through darkness that leads to the light.
It IS the question asked that reveals the answer.
Without the question, exploration isn't launched.
But, there is a little caveat. Actually, a gigantic one. A mammoth loophole that often hides from plain view.
That loophole is this: We are all cradled in a matrix of infinite wisdom, love, and acceptance. 
All knowledge breathes in our midst and we can inhale it by right, or by might.
I wrote that statement on my Tarot site  from a place that knows I am ("IAM" – the greater "I") a vital integration of the cosmos. As such, all knowledge is inherent to me (and you, and everybody else).
More and more I come to realize that KNOWING is more about the process of BEING rather than seeking.
Don't get me wrong, I'm very much a seeker. 
Nevertheless, when submerged in the idea that all things are available without the need to grapple, paradoxically, wisdom begins to roll up onto the sandy beaches of our awareness. 
In this manner of being,  full, burgeoning waves of wisdom may press themselves upon us. Voluntarily, that wisdom surfaces to our suspended perception – with no prompting from the seeking mind.
I'm not sure I'm explaining this very well.
Here's another stab at it:  It's when I can simply BE and KNOW my beat in the pulse of life – this is when the wisdom comes…unbidden….fluid…and so clear….moreso than if I had ever asked a question.
To be frank, I'm still playing with this concept (lucidity, it seems, is elusive)  And, I'll admit, it can be a "foreign" way at looking at the experience of learning and growth, but I suspect this mode of learning is quite natural for humankind.
My thanks to Ed, for his question, and allowing my ruminations in response.
If you liked this post, you may also  be interested in:  Well, humph – I haven't publicly written anything like this before – so I don't have any related posts to link (I'll have to remedy that :-).
What are your thoughts? Shoot 'em off in the comment section below.