Lessons Learned About Humans and Cactus Meaning
I'll try to keep this random thought about cactus meaning short. Those who follow my work know I can get wordy.  I really don't mean to, but there is so much to say about every item that is symbolic (which is pretty much everything, if you ask me).
You see, there is this little cactus that managed to survive this last winter and the harsh freeze that came with it.  I had many plants I tried to protect from this arctic episode…about 20 cactus and succulents, but this guy is one of three who refused to relinquish its life.
I think there is big cactus meaning and symbolism here. I think the harder you work on surviving, the bigger and better your results, and you can see that from the blossoms this guy brought forth.
I've had this cactus for 4 years.  It's not grown much. I still love it, and care for it. But NEVER did I EVER expect it to give me FIFTEEN awesome blossoms!  I kid you not.  I wonder if it wasn't the rigid-frigid winter that made this beastie go all wondrous on me.
That made me contemplate what makes humans blossom.  I think we have to be pushed. Maybe we have to be shoved to produce impressive results.
But perhaps not always. Cactus, like humans are born with extraordinary resources, skills, acumen and defense systems. We are born with the same stuff! Together, human and cactus can get by in this world just fine. We are divinely designed.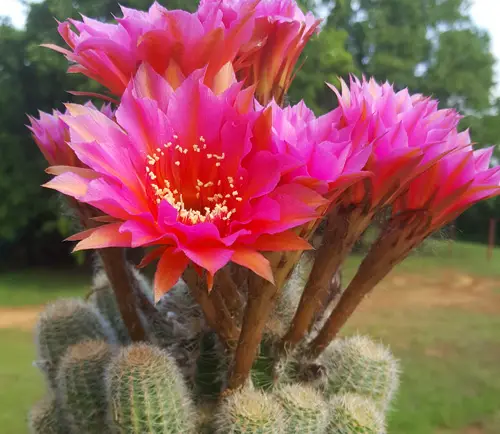 As far as cactus meaning goes, I think these mysterious plants share  a lot of lessons. Here's a list I cooked up that I've observed over the years:
Cactus Meaning and Human Lessons
♦  Some of us have to be born with spears and armor to defend ourselves. It's just the way it is.
♦  Some of us are equipped with enormous resources….it just might take a few years for those resources to become visible to the outside world.
♦  Some of us might be the prickly or toughest beings on the outside, or at first glance.  But when our time is right…WHOA! – Getta a load of our beauty, and be prepared to be astounded by our glory!
In short, I hope this post on cactus meaning applied to the human condition might help you in some way.  It certainly has me.
As always, thanks for reading. If you liked this article, you might like a few other related posts liked here: