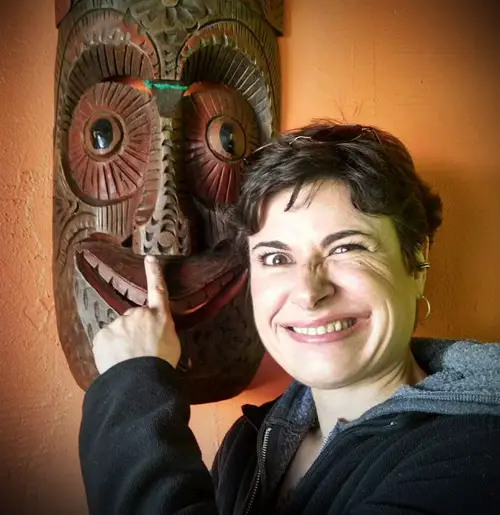 A dear friend of mine is dating, and that got me thinking about my own dating experiences.  She's feeling the bloom of new romance. From first date to current, she's reveling in that intoxicating experience of getting to know someone.  I'm utterly thrilled for her!
My friend is classy, eloquent and highly impressive.  It sounds like her new beau is her equal on all counts. Rock on!
I wish I could say the same for myself.  I've got a fabulously awesome partner right now…but that wasn't always the case.
To explain…I'm not the most orthodox gal.  I'm wired a little funky, and I don't comply to society's idea of femininity.
I could write a book about the epic failures I've had on first dates (or consecutive failed dates, for that matter).
I'll suffice to just share this one…
Meet Ben.  Accountant.  Shy.  Well-meaning guy. A good guy.  Really trying hard to make an impression, but we both know within the first hour we're not really a smart match.  We even admit it to each other!
As Ben relaxes a little, and the pressure is off (because we both know a 2nd date is out of the question), he asks me:
"So…Avia, if you were to describe yourself in under 5 minutes with total, brutal honesty…what would you say?"
This is not the question to ask a ridiculously honest Sagittarius who has had a few Lowenbrau's on a date.  So I asked Ben, "Are you sure you want the low-down?"  He said, "Absolutely", with a sly grin.
And this is what I said…
"Photographic memory.  Attended 4 prestigious colleges.  Kicked out of 3.  Earned a degree at the college that didn't give me the boot.
Don't always follow the rules, but know how to conjugate a verb, and how to avoid dangling participles.
Multi-Lingual in HTML, XHTML, CSS, SEO, and not too shabby at Spanish.  Pretty sure I could get around in Italy too.
French horn player for 15 years. 3 of those years as a pro, and sat as an alternate for a major metropolitan symphony.
Refuse to drive an automatic.  Jeep driver, always with a standard.  Drove a 18-wheeler too.
Clocked 80,000 miles on a Harley Softail.  Super fun.
Put a few people through school.  Donated thousands to charity. Support my local SPCA.
Been 250 pounds with a fantastic stuttering problem, compounded by an ugly skin condition and chained to an asthma inhaler.  Conquered all that in my 30s.
A product of two amazing parents who are still well-respected and completely awesome."
There might have been more I divulged to Ben, but I remember keeping it under 5 minutes.
At the end of my deluge, all Ben had to say was this…
"That's all well and good, but you have a big piece of spinach between your front teeth."
Isn't that nice!?!?
This brings me to the point of this post…
Was I bragging to Ben?  Am I bragging to you?  Yeah…maybe I was, and maybe I am.
But the Universe has a funny way of bringing us down a notch.
It's fabulous to be aware and proud of our remarkable achievements through our lifetime.  But my experience has taught me not pull out the braggadocio to the enth degree.  Lest we get caught bragging with spinach in our teeth! LOL!
Mostly, I want this post to remind all of us that it's not what we say about our achievements….it's what we do with them.  I've learned to live as an example…not just talk about stuff I've done.
Being a mentor,  an illustration of the best action is the most effective tact in showing others what we're made of, in my opinion.
Just thinkin'.
xo
PS:  And learning how to laugh at ourselves is a major plus. (see image above).  😉
FYI:  Ben and I still keep in touch via pen-pal.  He's a great guy.