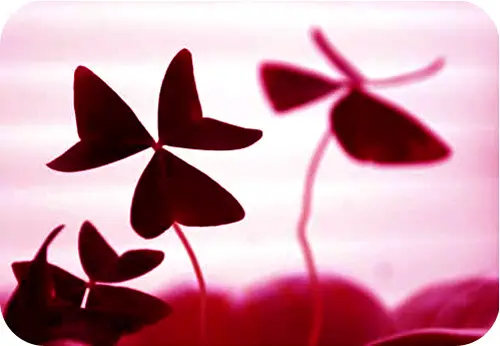 Meaningful Shamrocks and Playing with Natural Inspiration
---
Every day, I have an exchange with these ridiculously perky shamrocks.
I watch while 'patiently' waiting for the java to brew ("whaddya mean the coffee isn't ready yet!?!?!" lol), and I get lost in these deep amaranthine beauties.
These shammy gems encourage me to view Nature with dream-eyes.  By doing so, limitless morphing ensues.  For example, these shamrocks set me upon wonderfully odd dreamy-scenes like…
• Seeing whale tales slapping high seas while en route to acres of plankton yummies.
• Spying pterodactyl wings slicing through crazy pre-dawn mists & fog.
• Viewing airplane propellers that spin me into exotic realms.
• Counting sacred trinities and getting lost in the promises these triads hold.
• Picturing hearts crudely cut from construction paper & waiting to be given to a secret love.
You get the idea.  Nature has a magnificent way of making our creative bits go whirly-twirly if we are open to the spin cycle of soulful contemplation.
These sassy shamrocks suggested I share with this you….to invite YOU to dive into Natural pools of wonder…to ask YOU to observe Nature with dreamy eyes and be suspended in a daze of bliss.
Why?
Because Nature knows best that the most vital productivity comes from plugging in to natural realms of reverie.
So, let these shams ROCK your world!
What do you see? Where will they take you? How will they shape your day?
PS: Am I one of those hopelessly cheerful 'morning people?' Hardly. But the shamrock and other Natural lovelies set me free to the joys proffered by Nature and all Her unfolding glory.
And by the way:  If you don't have a shamrock in your windowsill. No sweat! You're not limited to the shamrock to get your groove on.
Nature offers an infinite array of stuff to electrify our hearts, minds and souls.
This post is just an elementary note…passed from my school desk of Nature to yours…with x's and o's…to remind you that Nature loves you…and all She asks in return is your love in return.
So get your Nature on, and jump-jive in Her resplendent awesomeness! 🙂
Other Links of Interest:
Shamrock Symbolism – Shamrock Meanings
Month of March Symbolism and Meaning
Getting Messages and Inspiration from Nature