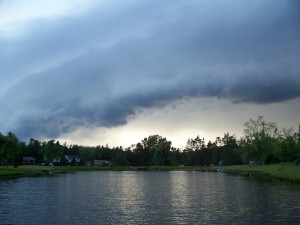 Dreaming of storms can offer a treasure trove of symbolic meaning.  
I had torrential downpours in my dreams this week.  And, whilst logging onto Twitter this morning, I saw  @coachoncall ,  Cheryl Richardson (The Coach on Call) had a thunderous dream encounter too. 
This synchronicity prompted me to write a few thoughts on symbolic meaning of dream storms.
My symbolic lexicon identifies storms with the elements of air and water.  These elements run a symbolic parallel with thoughts (air) and emotion (water) amidst the cosmic consciousness. Ergo, dreaming of skies, clouds and storms may be akin to "stormy thoughts" or emotionally-centered thinking.
Storms brewing in dreams may indicate challenges in expressing thoughts, mis-communication, misunderstanding, or conflict between heart and mind.  This may include an inability to make a decision or holding grudges (just as clouds accumulate and hold water, so too can thought & emotion).
Rain storms are symbolic of water, and water symbolism deals with cleansing and emotional stirrings.  Stormy dreams may indicate an accumulation of unhealthy or unclear thoughts needing to be washed away from the psyche in order to continue on the Path.
Lightning is symbolic of a stroke of genius, clarity, or epiphany.  It is also symbolic of action, power, and assertion.  Many dream interpreters consider it to be a divine oracle as Native Peoples have established lightning as a "sign from the gods" in cosmic consciousness.
Dreaming of thunder also holds the potential for messages from the divine.  When thunder rumbles through  my dreams, I fancy it's the Celtic god Taranis hammering at my heart – knocking down the layers I've built up around the soul – demanding entry so that my spirit may be emboldened by his presence.
Further, when I dream of rain or any kind of storms I consider the personality of the element.  I propose Undines and Sylphs are not simply mythological creatures, but in fact, they are the personification of water and air (respectively). 
When stormy weather visits the dreaming mind – I like to think these elemental spirits are paying me a visit – speaking to me through the language of dreams.
Whether you prescribe to these symbolic meanings of storms in dreams, or have your own symbolic identifications – you owe it to your highest selves to interpret them according to your own personal perspective. 
There is infinite gold to be mined from these cavernous oracles.  Start digging!
Other pages of interest: