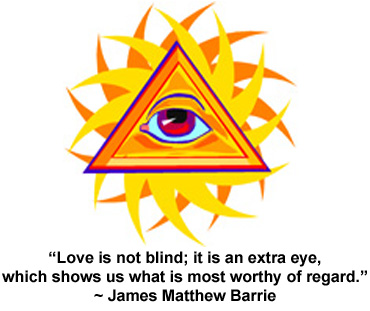 I got the following question from a reader of my Symbols website:
My neighbor suggested I have some sort of evil eye symbol placed on my doorway to my gallery, (I expect as a symbol for protection).  I feel the place is protected because I ask for protection.  What are your thoughts?
My response:
I agree – our energy is protected (or otherwise) when we consciously choose to make it so…a physical symbol of our intent is unnecessesary.
Symbols are useless to us if we do not believe in their vibrational potentional.  Similarly, it is not the symbol that holds the power – it is the intelligence that holds the symbol that commands power.
In other words, the fire of human belief fuels the implied meaning of a symbol.
As you know, our ancestors used symbols frequently for drawing in or banishing various essences.  As humankind moves forward, we see these old ways dropping off more and more.  I think this is because humankind is beginning to understand the Hermetic axiom "As within, so without – As above so, so below."
Now it is no longer the symbol holding the power – it is US! 
Now the esoteric art of symbolic interpretation is even more profound because it is our human heart that forms the meaning. 
Now the symbol merely serves as a reminder to us of the attributes we embody, the ultimate reality of our infinite potential.
So what is our infinite potential? We can answer that with another question: What are the symbols we hold?  With what are we aligned?
This cycle of reason reminds me of: "Which came first – the chicken or the egg?" because our symbols can define us, or we can define them.
And then, for another philosophical turn in your question:  If you DO put an "evil eye" symbol above your doorway with intent for protection – does that not imply an existing level of UNprotection?
Meaning, if we feel we must have a symbol to protect us, then we are coming from a position that we are unprotected.  I propose that protection (from a symbol or otherwise) need not be an option, because we are already protected 100% and at all times (just as you said "I feel the place is protected because I ask for protection" – simple as that – done deal).
Let's just say we wanted to put an intentional exclamation point at the end of your request for protection.  Fending off an evil with an evil eye is highly ineffective.  If a space resonates evil, it will draw unto itself the same resonance.
In essence, Evil Eye's wink back to evil, and say "come hither."  Whereas, something with the verities of purity, love, compassion would be more suitable.  Love always trumps.  I've written a summary that's kind of an antithesis of the Evil Eye here.
And I love this question – it's one I've given tremendous thought to because I've asked it of myself…thanks for indulging me the expression of these thoughts.
You may also be interested in my page on Eye Symbolism here.