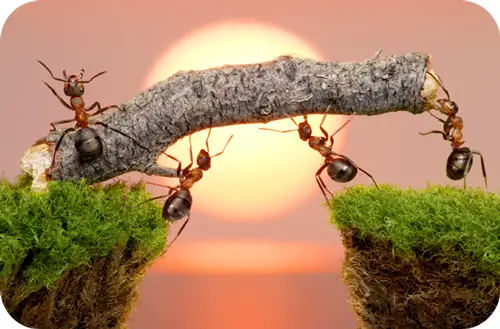 Symbolic Lessons and Meaning of Ants
Any of you sweet peeps who have followed me over the years know I'm all about having a positive attitude.
But sometimes poop happens.  It just does, and it blows.
Well folks, these last six months have been replete with messy, sloppy hip-high poop for me.  I suspect many of you may be in the same quagmire.
So what's a human to do?  What do we do in those moments where we've pulled almost every hair out of our heads, wrung our hands and rendered our garments?  Those times when everything seems so overwhelming and utterly futile?
We look at the secret symbolic life of ants.
Huh?  Yeah!
In the middle of family crisis, negotiating a complicated relocation of my home/business AND experiencing a devastating blow to one of my websites….I just felt fully crushed.
Actually, I felt like that little blonde girl in pigtails in the movie E.T.  You remember the scene.  She's up to her eyeballs in frogs, and she's clearly lost her mind with the madness of the frog stampede Elliot let loose in science lab.  Aaaarrrgh!
But in that moment of tears, wailing and agony….I looked at the dirt.  Whoa?  Yeah, it's a good practice.  If everything is unstable – get in the dirt.  When you're all topsy-turvy, dig your feet in the dirt.  Press your hands into the Mother Earth.  It's a very grounding thing.  Very therapeutic. No joke.
You see where I'm going with this.  Yep.  In my effort to find some stability within the dirt – I encountered ants.  Lots of 'em!  I'm talking swarms!  And they weren't very happy with me.  They stung the bejeezus out of me!  Ouchie!  😮
At first I was infuriated.  That pain just added salt to my emotional wounds.  But then I started thinking…..
Yeah, yeah, I can hear the nay-saying…."Avia…how could you possibly find a silver lining in being consumed by a bunch of bitey, bitchy fire ants?!?  C'mon!"
Easy.  Those ants were bad-a*s's! They reminded me they are not to be fooled with.  They said:  "Hey!  This is our turf!  Don't mess with us!"  That helped me realize my feelings of helplessness are an illusion.  We all have tools to fight back and defend ourselves – even in our weakest moments.  It might be our intellect.  Maybe it's our faith.  Perhaps we find strength in family or community.  When the going gets tough, take a bite back with what makes you feel strong and confident.
Those cranky ants taught me more than that.  After I tended to my ant bites, I went back to that spot in the dirt.  I'd messed up their home (total accident – sorry babies!).  Within 20 minutes, those ants had already reconstructed their mound.  Impressive.  That's a lesson.  It speaks to us about teamwork.  It talks about rebuilding with ferocious determination.  That was a big lesson of which I needed reminding.
What's more….did you know ants can lift THREE TIMES their own weight?  Yeppers.  Again – very impressive.  This smacks of big potential in the most unlikely tiny packages.  When we feel ineffectual or weak – I think we should remember what teeny weeny ants can do.  Often it's the 'dark horse' that wins the race.  It's hard to imagine the extraordinary feats of physics ants pull off – but they do – because they ban together, and they never give up.
And speaking of banning together….ants are a remarkable demonstration of teamwork and community.  If you watch them, you get the sense they work as a whole.  And they do.  They can't build a village with a single member.  Nope.  They communicate and work together to meet their goals.  Big juju in that lesson.  At least for me.
Well, that's my ant-insight.  I hope it brought you insight too.  Hopefully the next time you come across the deceptively small ant – you'll realize they're actually quite tremendous in strength, resources, defense and unity.
As always, thanks for indulging me – and thanks for reading!
May all your ant antics be inspiring!
Avia
More Articles of Interest:
Symbolic Meaning of Ants in Dreams