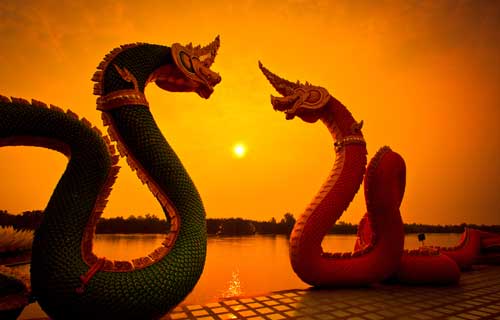 Secret Life of Nagas and Naga Meaning




If you've been following my work for any length of time, you might notice I get jazzed about snakes.  For a myriad of reasons, snakes have always been my source of inspiration and wisdom. Perhaps it has to do with their symbolism of duality.  A staggering collection of cultural myths consider the serpent a symbol of contradiction like: light vs. dark, creation vs. destruction, good vs. evil, etc. I dig that.
The simple answer to 'what is a naga?' is this : It is a serpent.  Yep, naga meaning translates to 'snake'.  But that's where simplicity ends. Various forms of nagas are found all across Asia and India.  Each naga tells a different tale according to its location.
In India, snakes have been honored for centuries.  To prove my point about duality, Hindu belief identifies the snake as having two distinct personalities.  In this culture, nagas are both holy and maniacal, divine and devilish.
But in cultural symbolism, there is a reason for this two-faced aspect.  Almost universally, snakes are typically feared or revered. They are the epitome of mystery.  The serpent has wrapped its tail around countless legends throughout human history.  Inevitably, there is a silver lining to a snake's evil action.  Vice versa, there is a consequence to a serpent's good deed.  Let's break it down…
The Dark Side of Naga Meaning
To understand the dark side of naga meaning, we have to understand their behavior is not random.  If a serpent lashes out, there is almost always a cause.
Let's take the tales of nagas poisoning people.  In almost all cases, these powerful serpents are not spewing venom for the fun of it.  Nope. More often than not, the recipient of naga poison committed some kind of crime or misdeed.  This scenario serves as a great moral in children's fables.  It's a great teaching method encouraging children to be good – or else the naga will unleash their deadly spit. Yikes!
Nagas have an obsession with glittery goodies like gems, gold and other treasure.  Woe be to anyone who came close to their hoard of sparkly collection of precious bits.  Naga's were known to squeeze the bejeebers out of anyone who attempted to go near its treasure. Who can blame the serpent for that?  I'd be pretty cranky if someone tried to steal my vintage-mint-in-box Pee Wee Herman doll. lol.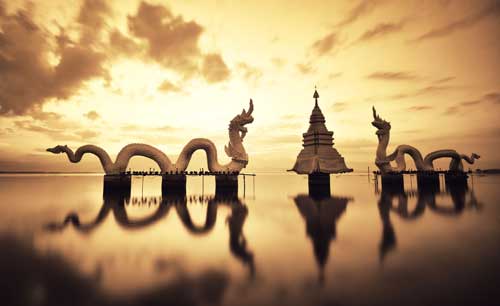 Okay, I confess, I'm an advocate of serpents.  Snakes, including nagas are often villainized.  It just seem unfair.  It's true, most times serpents of legend have a reason to be nasty.  But I must say…sometimes a wicked naga is just plain wicked.  For whatever reason, naga's are known to seduce an unsuspecting folks.  Once lured in, the naga struck, killing the poor being who crossed the serpent's path.  Some naga's are just bad eggs, I guess.
The Light Side of Naga Meaning
Now for the good stuff.  The symbolic meaning of serpents (and the naga) often revolves around renewal and regeneration.  In the case of Hindu naga lore, the serpent represents infinity and creation. This has to do with the snake's ability to shed it's skin. Out with the old, in with the new.  After shedding, the snake is shiny and reborn. This theme is seen in many legends in Indo-Asia.
Another redeeming quality of the naga is protection.  Extreme protection. As mentioned, you don't mess with naga treasure.  Often myth depicts the naga  protecting booty not for themselves, but for the royalty of the land.  If you ever tour around Asia or India, take a look at the temples.  Odds are, you will find carvings of serpents wrapped around stairs and columns.  This reinforces the aspect of fierce protection the naga provides.
Nagas are also associated with water and the underworld in Hindu belief.  As such, they influence behavior of rainfall, rivers, and lakes. Not only is this vital in hot climates, it is essential for successful agriculture.  In this sense, the naga is a positive symbol of provision, generosity and fertility.
There is another Hindu legend that states the naga showed kindness to Buddha.  One day while Buddha was meditating, a torrential storm blew in, pummeling the Buddha with wind and rain.  The nagas saw this and came to the Buddha's aid.  They used their hoods (similar to cobra hoods) like an umbrella to protect Buddha from the rain.  Then they wrapped their bodies around Buddha to keep him warm from the chilly wind.
Closing Thoughts on Naga Meaning
See, so the serpent naga is not all that bad.  I think the symbolic lesson here is this:  If something seems scary or intimidating, there might be a positive side too.  I'll admit, snakes aren't everybody's favorite creature, but when we take a look at serpents through the eyes of different cultures – it gives us insight into new perspectives.
I hope you enjoyed this post on naga meaning.  If you enjoyed this article, please be sure to check out the links below for related information.  As always, thanks so much for reading.