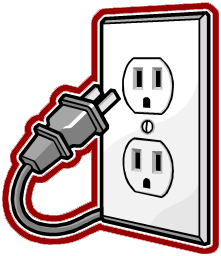 I live in a 132 year old house, and all the electrical outlets are those 2 slot kind. It seems every electrical device I own is 3-pronged, so I'm forever grabbing an adaptor to allow my 3 prongs to fit in my 2 hole outlets.This got me thinking about spirituality.There are adaptors available to us to assist us in getting more connected and allowing our spiritual energy to flow more freely.
We can seek out spiritual adaptors in the form of:
prayer
service
meditation
communing with nature
consulting a spiritual practitioner 
These are just a few examples of spiritual adaptors.
It's the responsibility of each of us to find the right adaptor for our needs.  We must ask ourselves: "What tools are best utilized to serve my highest good, and allow my energetic current to flow most effectively?"
For example, I serve as an appropriate adaptor for certain people. Over the years, I've found a specific personality is drawn to me. Certain people come to me with very specific symbolic questions they want help in clarifying.  I'm the perfect adaptor for these people – we plug in together beautifully – our energy flows together just right.
On the other hand, we can sometimes reach for the wrong adaptor when seeking spiritual clarity.  A few poor adaptors I can think of offhand are drugs and abuse.  These adaptors either cut off energetic flow, or worse – cause backlash in the form of short circuits, and electrical fires that can spiritually damage us.
Whether we approach spiritual leaders for advice, or adopt practices for spiritual development, it's important to seek an adaptor that "fits just right" with our needs. 
Last word: Be wary of "one size fits all."