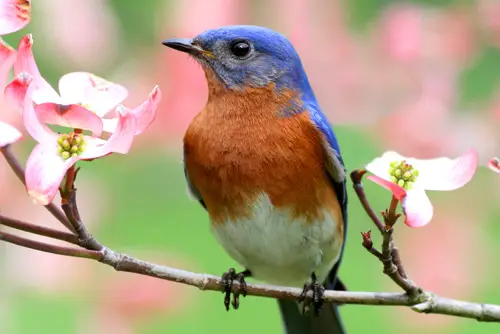 The Beauty of Bluebird Meaning
I saw a bluebird this morning. Some folks might say, "So what? Big deal!" Well actually, it is a big deal.  The bluebird is legendary in many cultures for being an extremely good omen.
My sighting of this bright beauty could not have come at a better time.  You see, I'm going through a real crummy phase in life. I suppose all of us are to an extent. Nobody's life is perfect. But these days have been pretty freaking dark for me. So seeing the bluebird really lifted my spirits.
Maybe that seems flimsy in the face of some serious crud I'm going through - but on the other hand - sometimes it's the smallest blessings that get us through a brutal moment. Wouldn't you agree?
I think many Native American tribes would agree.  Pueblo, Iroquois and Navajo all viewed the bluebird as a rare and beautiful sign of prosperity. This good fortune was particularly relevant in terms of fertility. When someone in the tribe spotted a bluebird, it was a clear sign of some kind of new birth or blessing on the horizon.
All this symbolism has a lot to do with the season the bluebird is associated with. In Native perspective, the bluebird represents springtime. This time of year represents lovely things like: Growth, birth, change and renewal. So it's no wonder the bluebird is a signal of some good changes cropping up in our lives.
The bluebird is also helpful in times of serious transition. There is an old Native Pima legend that expresses the bluebird's connection to positive change. The legend says that once upon a time there was a terribly ugly bird that hung around the camp.  One day, the unsightly bird found a magical lake situated close to the tribe.  After bathing several times in the lake's special waters, the ugly bird was transformed into a beautiful blue wonder-bird.
I think the moral of this story addresses exactly what I am going through, and what many of you might be enduring too.  This legend points to some ugly times in our lives. But as we move through life, we are bound to experience some gifts of promise and faith.  By submerging ourselves in healing waters of hope and anticipating positive results, we are blessed on our journey through transitioning into a better phase of life.
I hope this post on bluebird meaning offers you some hope and assurance.
As always, thanks for reading.
May all your moments be blessed with bluebird beauty,
Avia