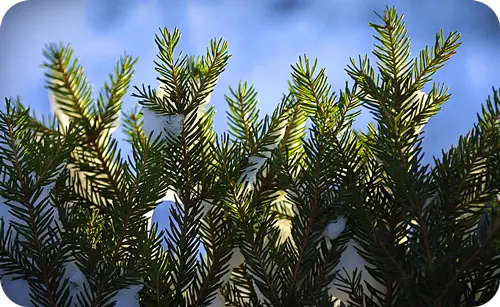 Evergreen Symbolic Meanings and Reminders
I have a few evergreen (conifer) trees around the house and they mean infinitely more to me than mere landscape features.
Our ancient kin, particularly of the Celtic ilk, observed evergreens as hugely powerful in symbolism. Because they stayed green through the 'dark half' of the year, evergreens symbolic meanings included qualities such as:
• Strength
• Stoicism
• Invincibility
• Determination
• Immortality
• Revitalization
Unbending against heavy winter snows and brutal winds – the evergreen won a high place of honor amongst the Celts. In fact, these early clans brought evergreen boughs into the home as a reminder of the indomitable spirit inherent in all life.
I observe the evergreens in my midst as heroes in this winter grip. Ever-bright and ever-clear, their likeness reminds me of the ever-green nature within the core of every human. And so, those glimmery evergreens remind me of the Anahata (the green heart chakra) qualities.
We too have the ability to stand strong in the midst of adverse conditions. Whether comparing them heart chakras, or Celtic wisdom, evergreen symbolic meanings deal with life-loving qualities such as:
• The capacity to love in the coldest of times.
• The inner resources to feel warmth (empathy) in spite of austerity.
• The ability to feel deep magic in a sterile, fact-finding world.
Those are some of my thoughts on the evergreen, and how they remind me of emerald potentials forever glistening within the strongholds of our souls.
What does the evergreen remind you of?
If you need more inspiration, feast your ever-bright eyes on these green gems:
Symbolic Meaning of Trees (general)